I have always enjoyed linking up with Louise at Little Hearts, Big Love for her 'From the Mouths of Babes' linky about the funny things kids say. I'm really bad, however, at remembering some of the things my kids say for long enough to make a blog post about them!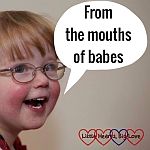 This week though, I turned the tables on the boys. We had been for fish & chips, and Toby had left most of his but promised he would eat it all later. He then caught me giving a little bit of fish to the dog!
He very angrily demanded to know what I was doing: "Whose fish is that? Are you giving the dog my fish?".
I put on my best innocent face and said "I don't know. I just found them" (where have we heard that before??).
Both boys giggled a little, but Toby returned to his serious stance:
"You're giving the dog my fish aren't you?"
I  gave another innocent shrug. "Daphne told me it was hers…" (Daphne is the dog).
By now his brother was laughing loudly. Toby was incredulous "MUMMY, YOU'RE GIVING THAT DOG MY TEA!!"
My final shrug and innocent voice squeaked out "It wasn't me…"!
Talk about a taste of his own medicine!!