Welcome to the monthly #SnappedUp linky for May-June!
Every month we're giving away a fab prize!
Bloggers and vloggers take note: Have you recently posted or vlogged about your latest shopping bargain or haul? Then the #SnappedUp Linky is for you!
Together with

Home and Horizon

 we host a monthly Linky where you can share your best shopping buys (they can be anything!) and comment on other people's finds.
But wait, there's more….every month we'll be picking a random winner to win a fantastic prize!
This month's prize details:
Did you know that 18% of children aged between six and eight now own their own mobile phone according to a poll among 2,000 consumers?
The research was carried out by Peli, a global leader in the design and manufacture of high-performance protection cases, and found that ownership rises to nearly 20% for children aged between nine and 11 – with more than 50% of children over the age of 13 now owning a phone.
I don't know about you but I'm always worried when handing over my phone or laptop to the kids; they are, after all, my pride and joy, and I rarely let them out of my site.
I got some protection for my MacBook sorted recently and I just had to do the same for my iPhone 6 – in the form of a Peli Case.
And I'm so glad I did; we all have accidents and I don't need to feel my blood pressure rising every time I hand my phone to tweens.
Turns out I'm among the majority of parents who loan their phone to their kids to keep them occupied – including at restaurants, in waiting rooms and outside the home.
In fact, Peli's research found that only 29% of respondents said they don't loan their mobile to their children.
And in terms of time, parents allow their children to the use their phone for one hour a week (49%), up to five hours a week (33%) and between five and ten hours a week (10%), with 6.5% allowing ten-plus hours a week.
And would you guess it – 72% of mobile phone owners in the research have damaged or broken their phones – often from a careless slip by a member of the family!
So why take the risk? Peli Products offer the ultimate protection with their cases, which have Peli's DNA – protective cases that withstand the most extreme conditions on earth. They also carry a Lifetime Guarantee.
So…..drum roll please…this month we're giving away a Peli Voyager Protective Case for the iPhone case worth more than £25!
For your chance to win, follow the 3 simple rules below:
NB: May/June £20 Amazon voucher winner: Laura from Musings Of A Tired Mum! 
IMPORTANT:
**** Please note that linky entries will only be considered as eligible competition entries if ALL THREE rules of the linky have been met. ****

Please note that reviews and competitions are not permitted on this Linky.
You can link up a blog post or a vlog (or both) with a maximum of two links.
The Rules
Comment on the hosts' posts. (marked HOSTS in brackets)
Comment on the post before yours plus AT LEAST one other (preferably all if possible – sharing is caring!)
Grab the badge below and paste it at the bottom of your blog post.
(If you are submitting a YouTube link please post a link on social media or mention the linky #snappedup in your video description, then tweet the hosts)
Please tweet the hosts @FamilyMakes and @LaurettaCWright with the link to your post and the hashtag #snappedup and one (or both) of us will retweet it and leave a comment on your blog/vlog.
Thanks for taking part – and remember to pop back soon to see more great buys and leave your comments and support.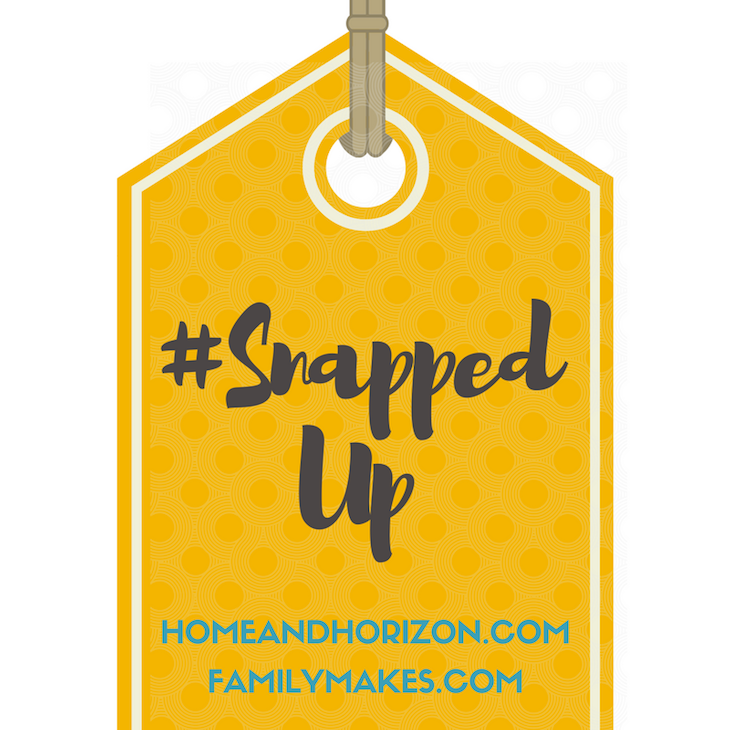 This linky has now closed, and the latest one can be found here. Hope you can join us!